Are you searching for the finest luxury wedding venues in California? Well, your search ends right here! This guide presents the top choices along with helpful tips for planning your dream wedding. These venues offer stunning landscapes and opulent amenities that will create an unforgettable experience on your special day.
Your Roadmap to Luxury Wedding Venues in California & San Francisco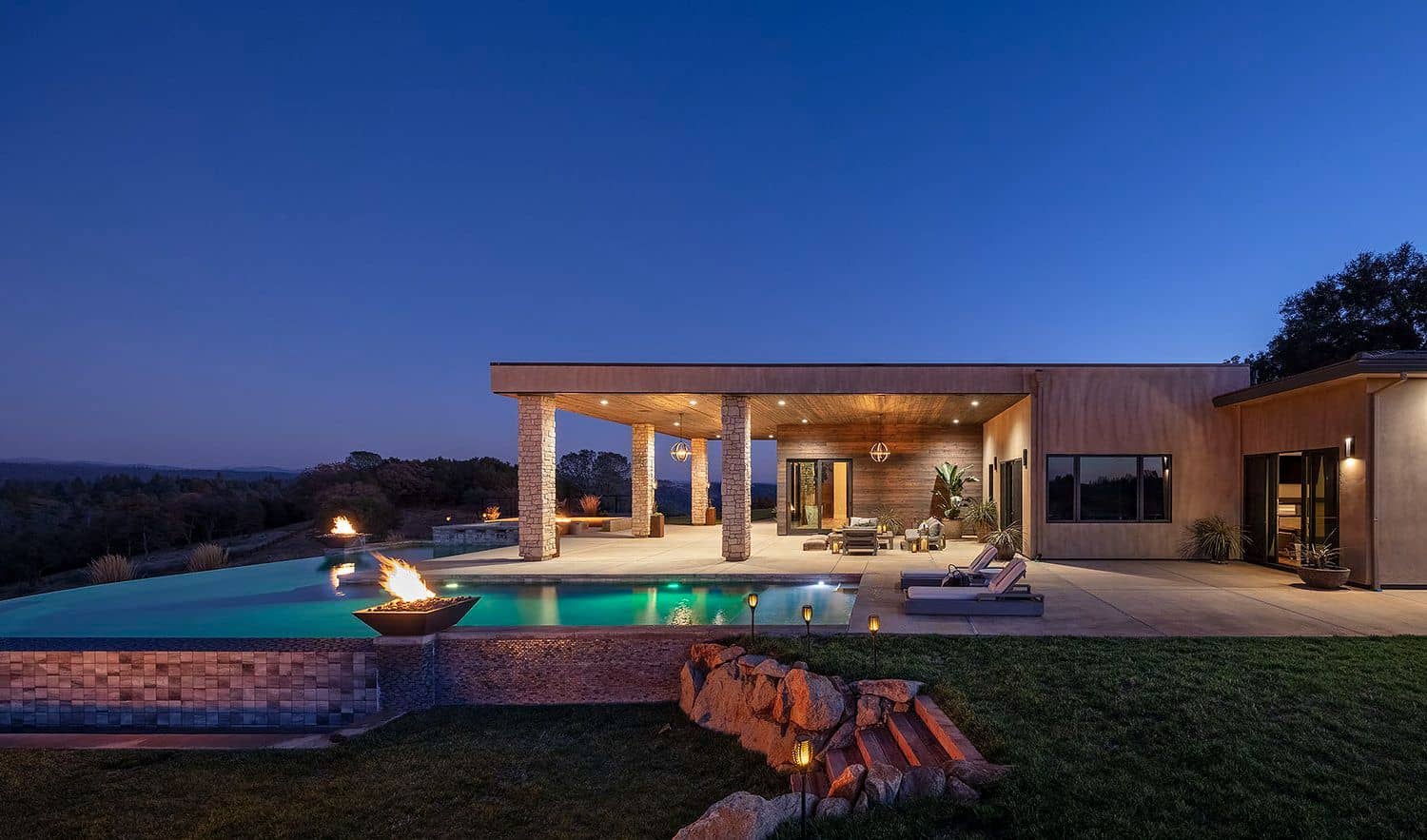 1. Black Oak Mountain Vineyards
Address: 2480 CA-193, Cool, CA 95614, United States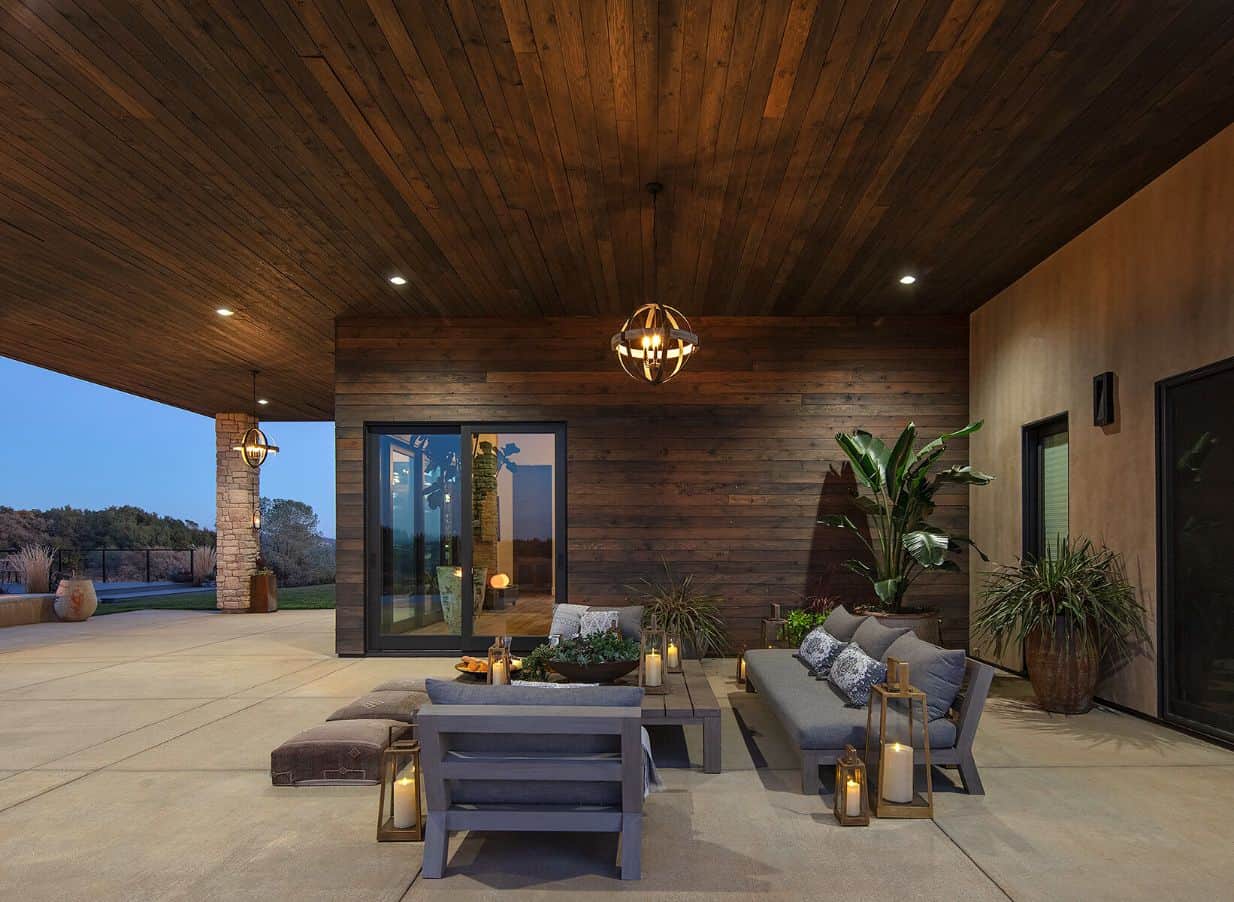 The Premier Luxury Wedding Venue in Cool, CA
At Black Oak Mountain Vineyards, we offer more than just a venue; we offer an experience that blends sustainable luxury with breathtaking natural beauty. Located on over 150 acres of premium soil and diverse topography, our estate embodies a commitment to living in harmony with the land.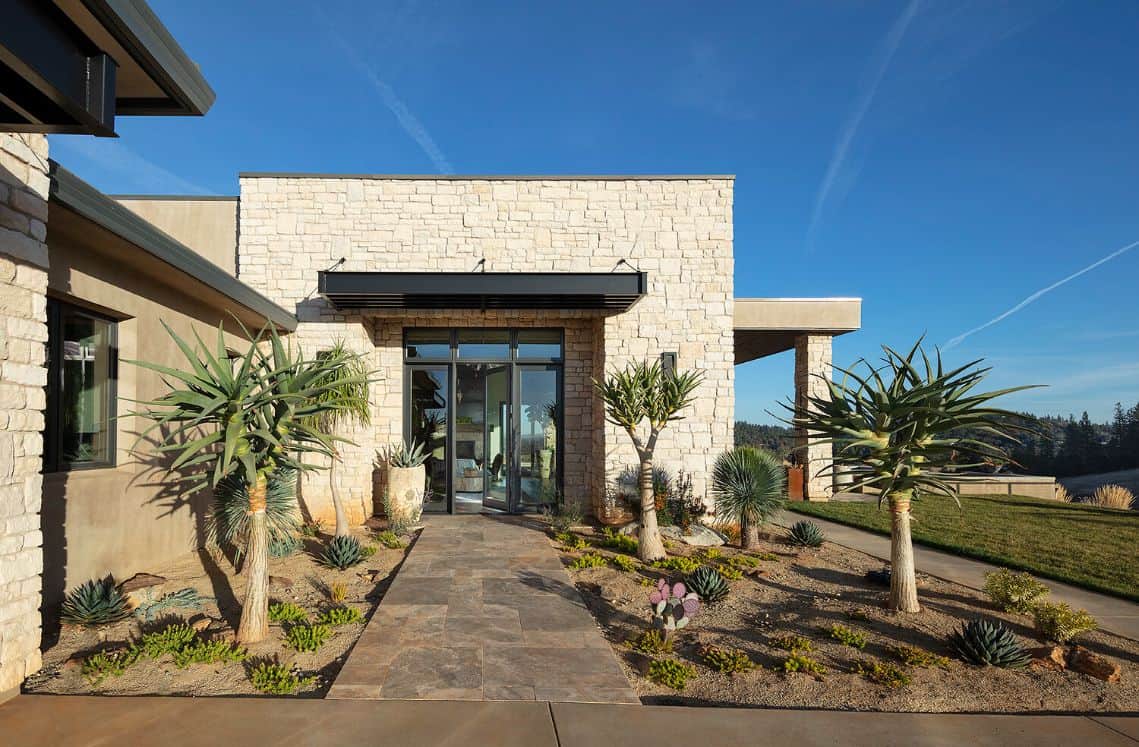 Embracing Nature
Our founder and CEO, Brad Christian, envisioned a space where nature and celebration could coexist. Currently, our estate features a striking olive tree orchard, acres of lush grapevines, and a modern greenhouse garden. But our vision extends beyond this, with plans for honey boxes, an expansive lavender field, on-site winemaking, and more to deepen our connection to the earth.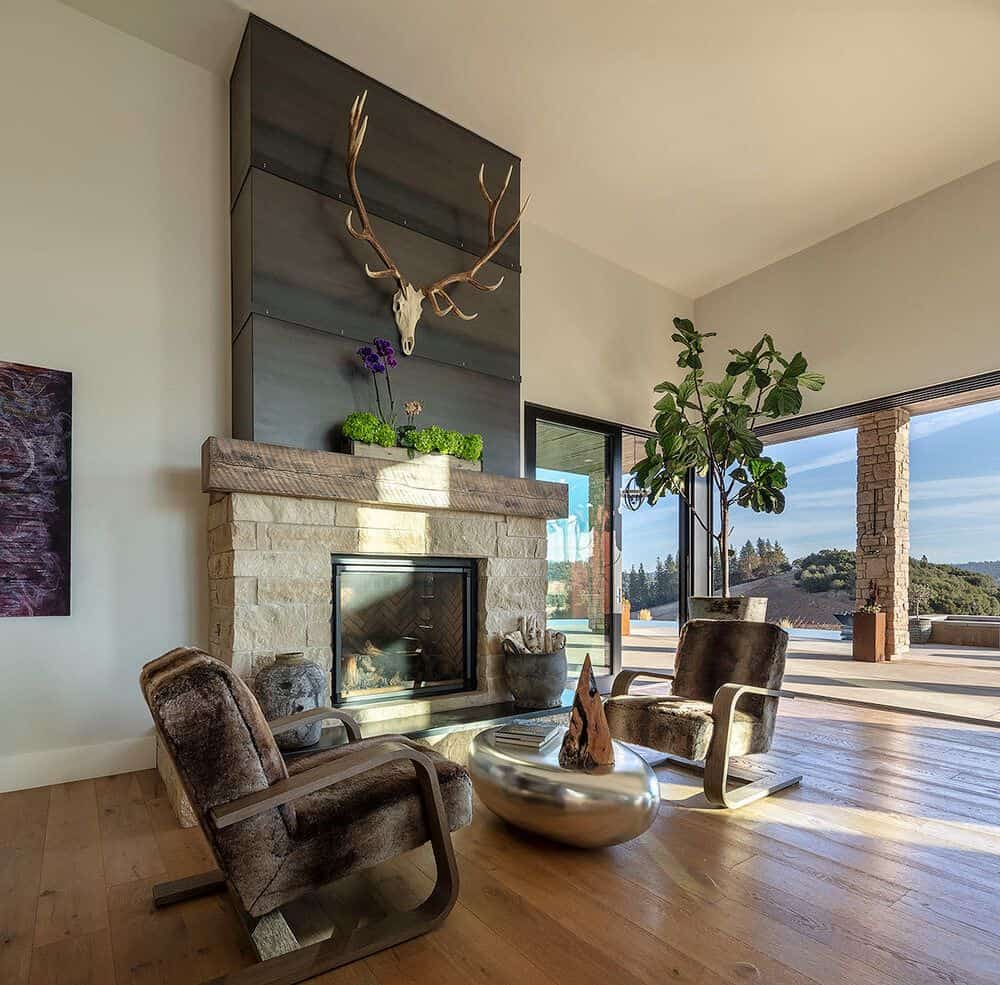 Sustainable Luxury
We are dedicated to promoting a healthy, natural property. Our well water, triple-filtered to perfection, sustains our crops and nourishes our land. Our luxury infinity swimming pool, filled with structured salt water, minimizes chemical impact, enhancing the land's and our guests' well-being. We prioritize a low EMF environment, providing optional wifi and smart technology, allowing everyone to embrace the natural surroundings fully.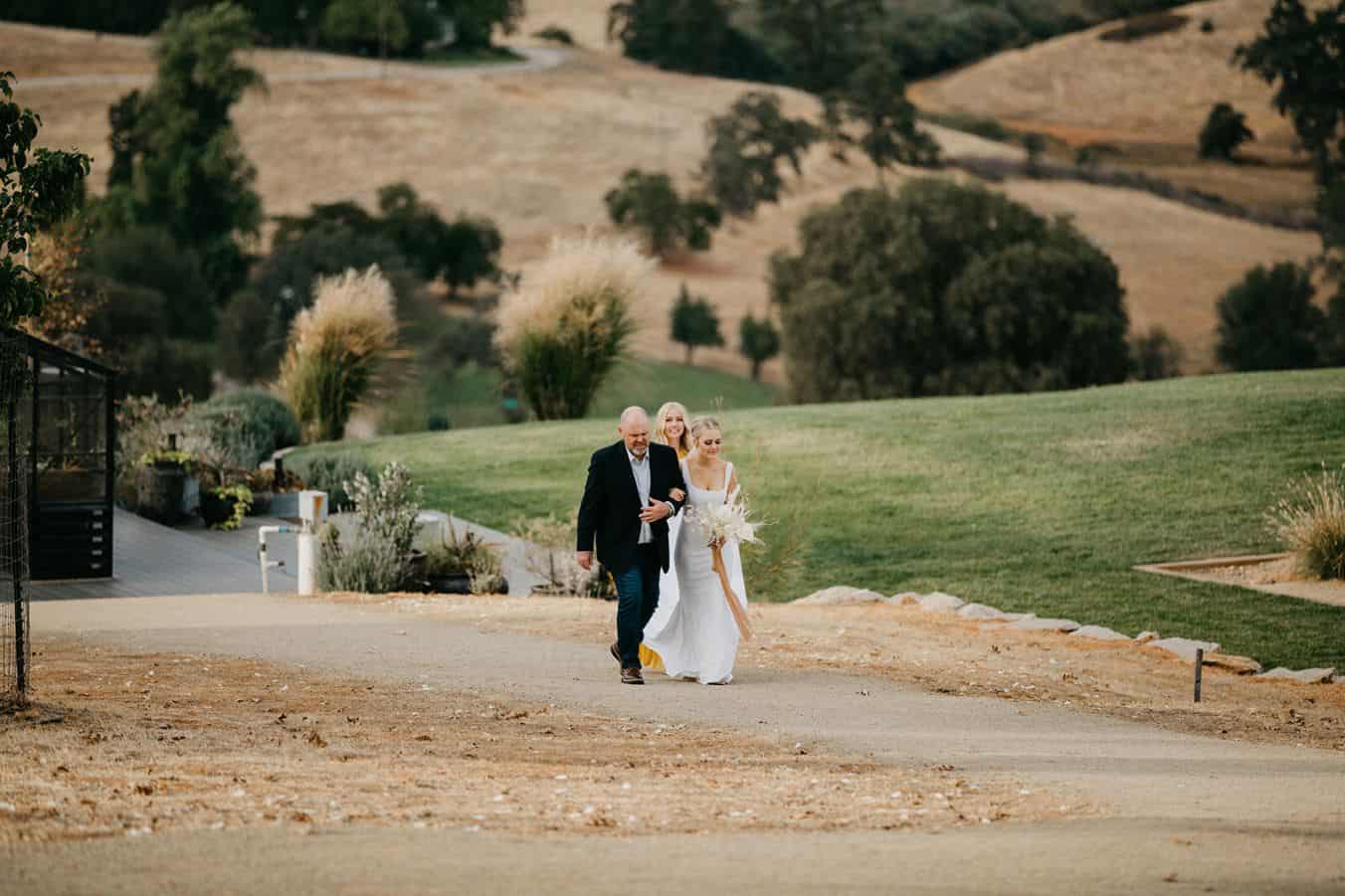 A Pristine Oasis
Nestled on 150 private acres, Black Oak offers unparalleled exclusivity and privacy for your special day. Our edge-of-the-world views of the Sierras provide a backdrop of natural wonder, while our Mountain Modern architecture, designed by the renowned Kristi Sandford, creates an impressive setting for your celebration.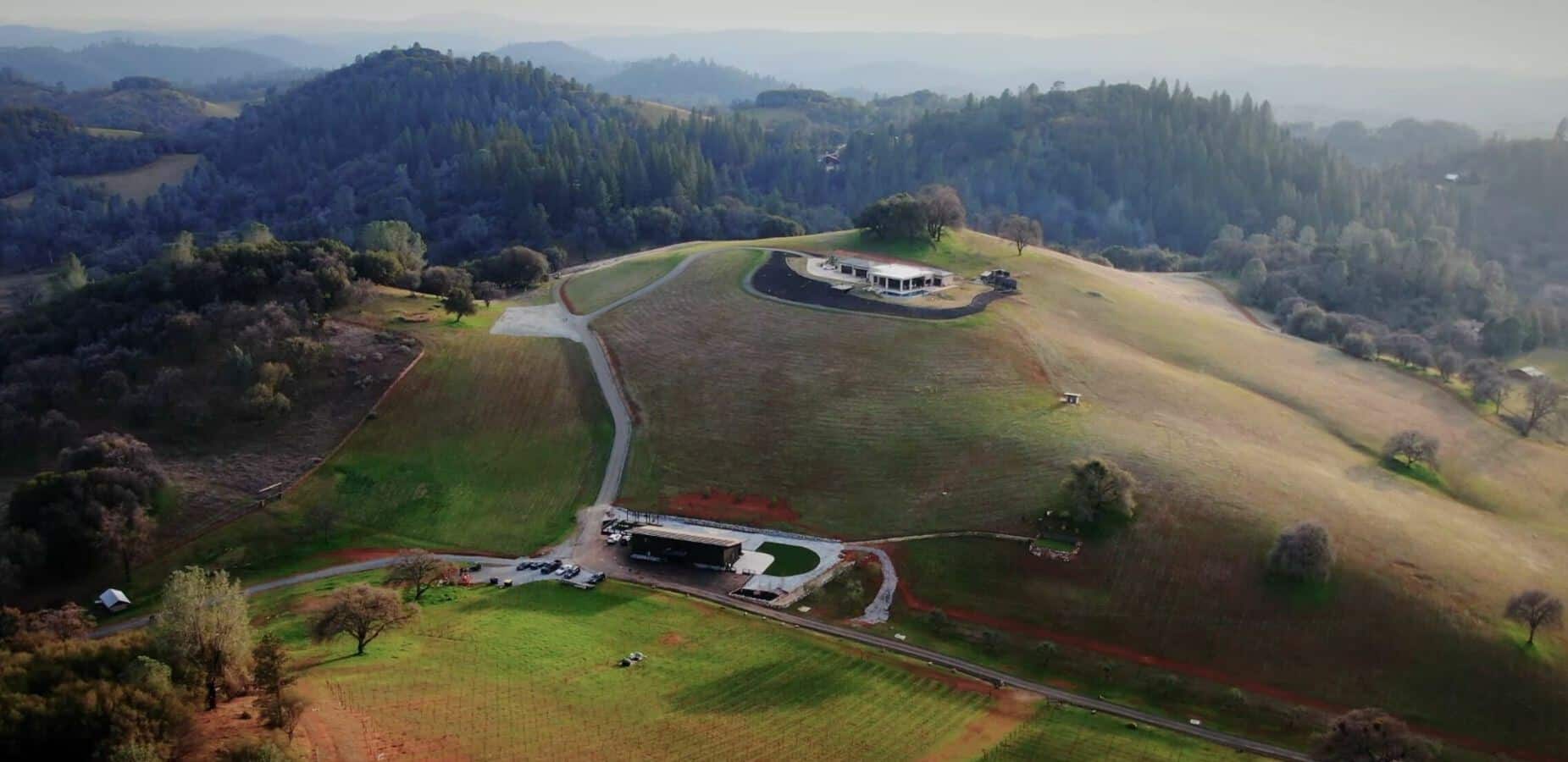 A Venue That Includes a Winery
When you visit Black Oak Mountain Vineyards, you'll notice the pristine condition of everything we offer. Our commitment to maintenance ensures that your experience is nothing short of exceptional. We often hear that seeing our venue last might be wise, as it sets a high standard for comparison.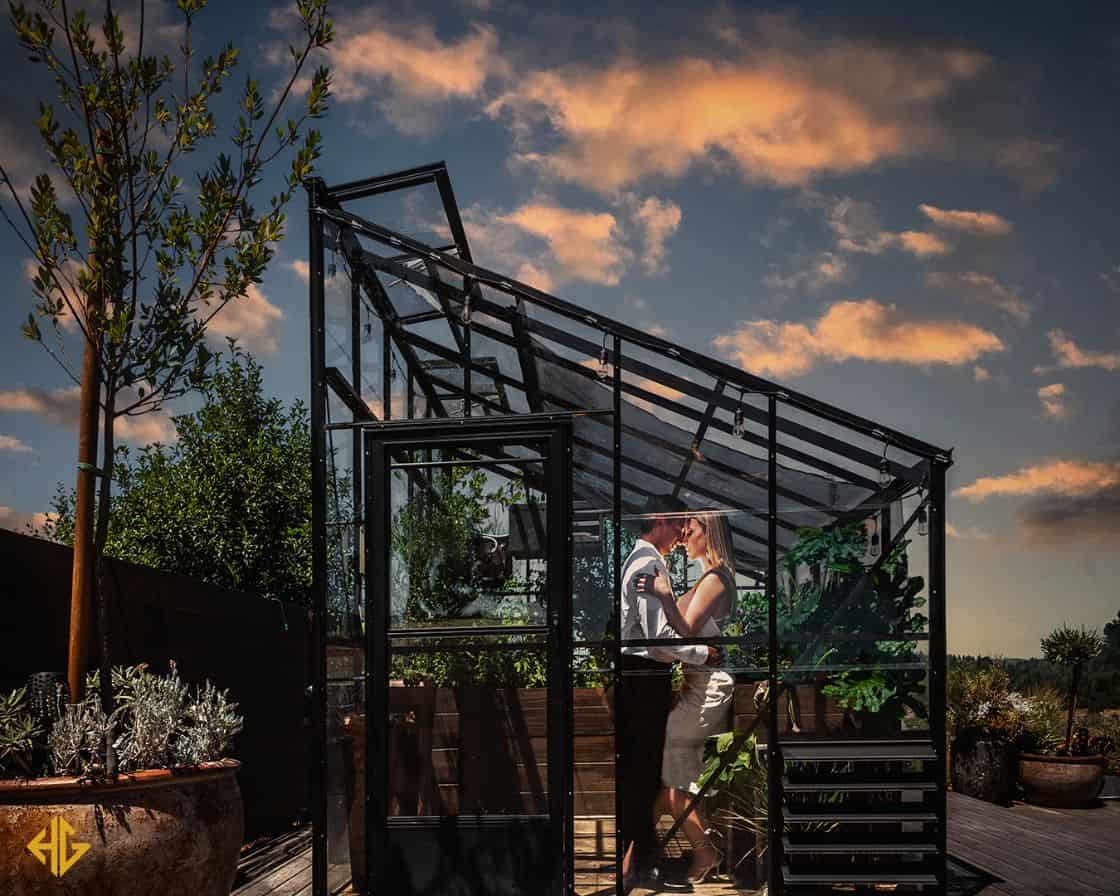 An Experience Like No Other
Black Oak was created for couples who want both meaning and grandeur in their celebration. We understand that you desire an unforgettable event without sacrificing luxury or style. We've reimagined wedding planning with chic design elements, convenient amenities, and a dedicated team of professionals.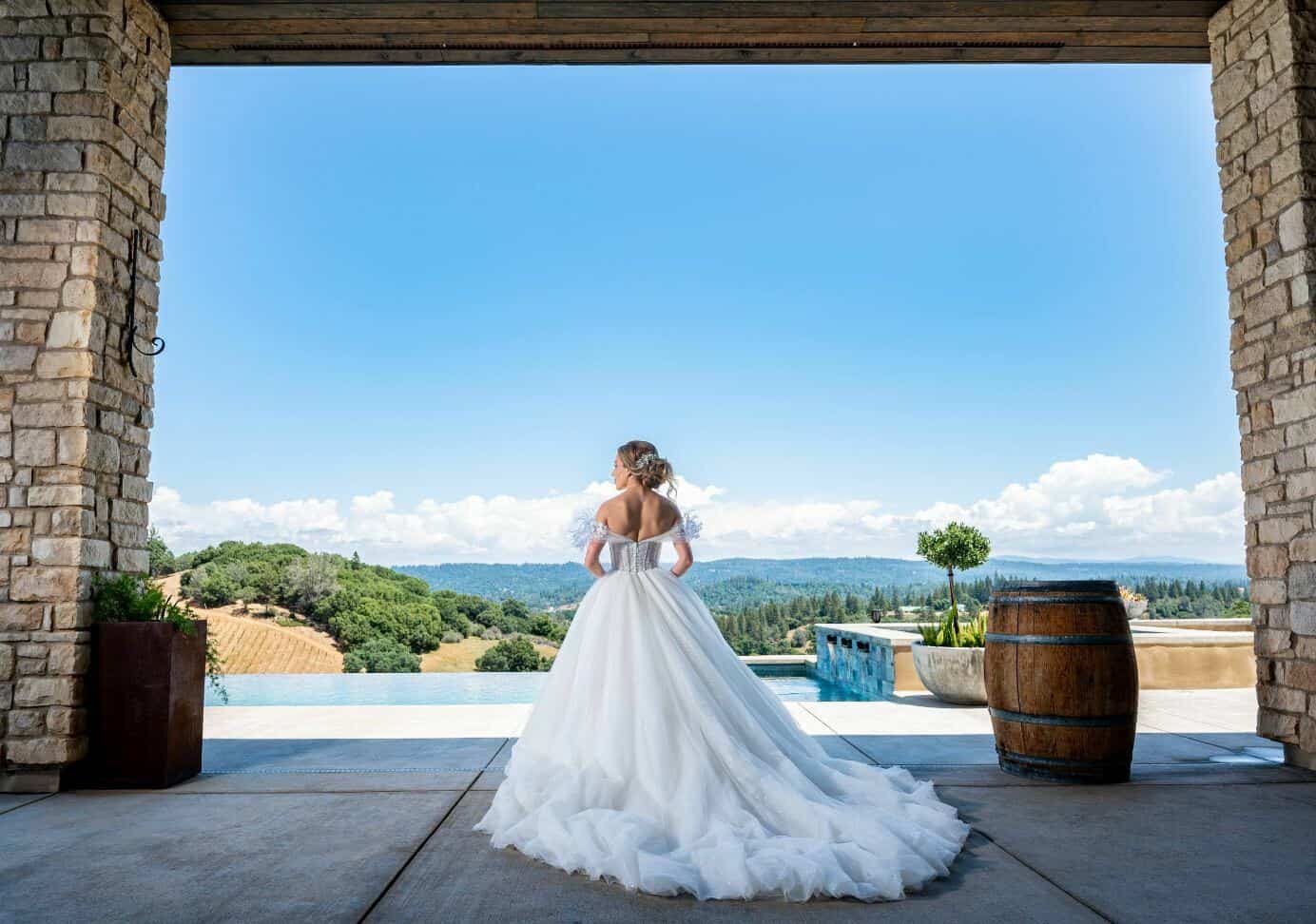 Choose Black Oak for Seven Compelling Reasons:
Edge-of-the-world views of the Sierras
Sweeping vineyards and dramatic landscapes
Pristine luxury and exclusivity
Leave an ultra-impression on your guests
150 private acres dedicated to you
Accommodations for over 20 guests
Sustainability at the core of our venue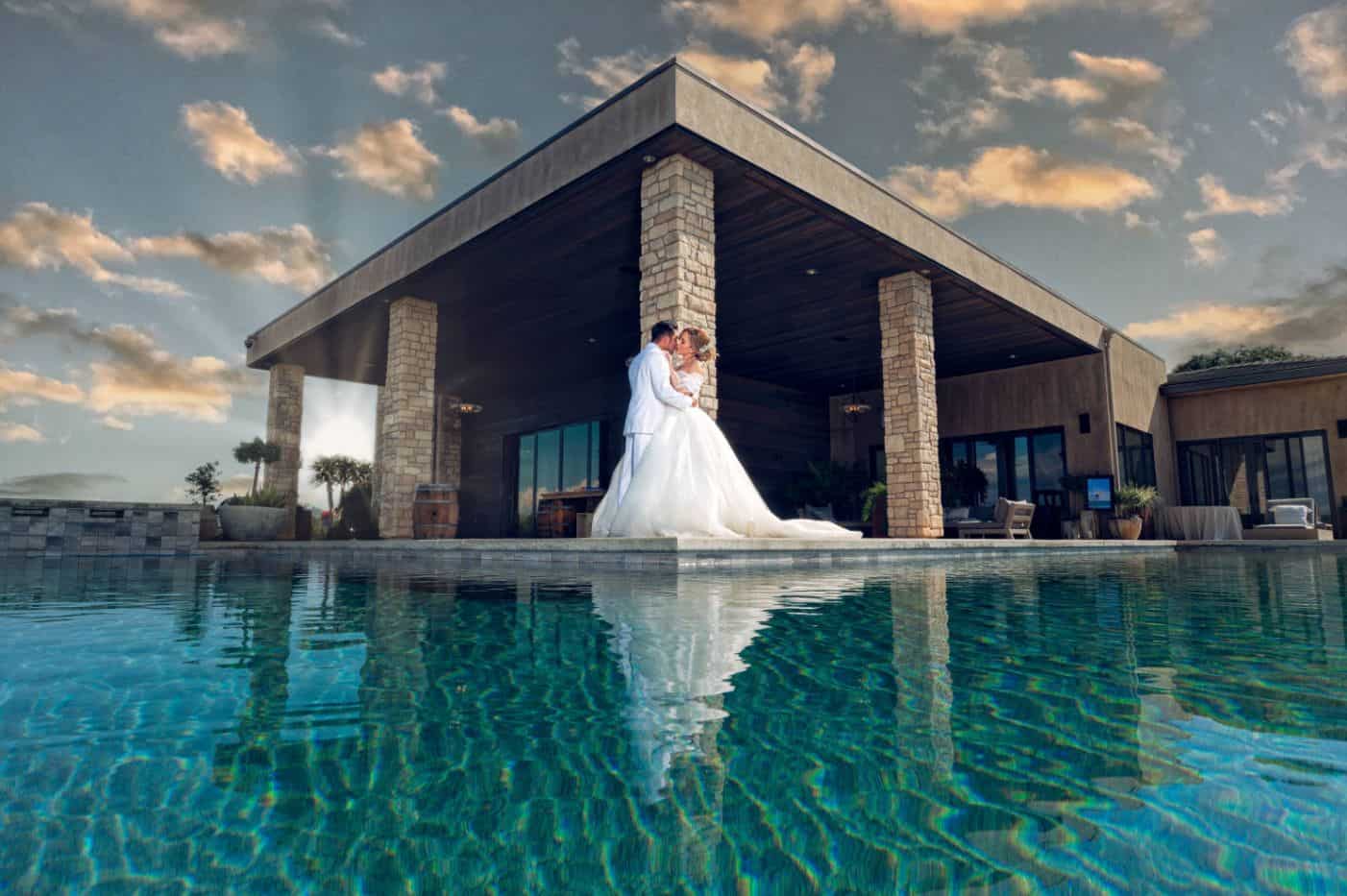 We can host you and up to 150 guests on your special day, with lodging available for up to 22 guests in our overnight packages. Our experienced team, combined with your chosen BOMV preferred wedding planner, is dedicated to making your wedding the best.
There's no venue like Black Oak Mountain Vineyards, and there will be no wedding like yours. Explore the possibilities, and let us help you create an extraordinary celebration of love and life.
2. The Hibernia
Address: 1 Jones St, San Francisco, CA 94102, United States
Welcome to The Hibernia, San Francisco's Premier Historic Event Venue, where history and luxury intertwine to create the perfect backdrop for your special occasions.
A Timeless Landmark
Built in 1892, The Hibernia stands as a timeless landmark anchoring San Francisco's storied Mid-Market neighborhood. Its neoclassical revival style, featuring a grand corner location, exterior colonnade, and iconic verdigris-domed entrance, lends an air of sophistication.
Central Location, Versatile Spaces
Conveniently located just blocks from Moscone Center, City Hall, and BART/MUNI, The Hibernia offers three unique and flexible event spaces totaling over 40,000 sq. ft., making it ideal for events of all sizes.
Unforgettable Weddings
For your special day, The Hibernia provides the grandest setting in San Francisco. Choose from a range of spaces, from the opulent 16,330 sq. ft. Main Hall to cozier 2,745 sq. ft. options. The venue also offers extensive dressing rooms to pamper the entire bridal party, ensuring your wedding is truly unforgettable.
Planning Made Easy
Planning your event at The Hibernia is a breeze. Take advantage of comprehensive FAQs, convenient location tours, visualizing your event through photo galleries and virtual tours, and a wide array of amenities and packages to suit your preferences and budget.
Unique Event Spaces
Explore the distinctive event spaces within The Hibernia – from the grand Main Hall to the industrial-chic 1 Jones, the private rooftop retreat Penthouse, and the luxurious Tobin Suite Library. Each space offers its own unique charm, accommodating events of varying styles and sizes.
A Team You Can Trust
With a professional event production team guiding you every step of the way, The Hibernia ensures that your event, whether an extravagant gala or an intimate soiree, is executed seamlessly. The opulent dressing rooms, premier vendors, and private rooftop deck add to the charm and convenience.
Rental Rates
Facility Rental Rates:
| | | | |
| --- | --- | --- | --- |
| Space | Sun-Fri | Sat & Holiday | Non-Profit |
| Main Hall (Incl. Lower Level) | $18,000 | $25,000 | $25,000 |
| Lower Level (Only) | $7,500 | $7,500 | $7,500 |
| The Gallery/Rooftop | $6,000 | $7,500 | $7,500 |
| Tobin Suite | $5,000 | $5,000 | $5,000 |
| Full Building | $25,000 | $30,000 | $30,000 |
Capacities:
| | | | |
| --- | --- | --- | --- |
| Space | Reception | Banquet | Theater |
| Main Hall | 1,500 | 650 | 1,000 |
| Lower Level | 400 | 120 | 150 |
| The Gallery/Rooftop | 123 | 45 | 60 |
| Tobin Suite | 57 | 20 | N/A |
| Full Building | 2,080 | N/A | N/A |
3. Richard Nixon Library & Museum
Address: 49-499 Eisenhower Dr, La Quinta, CA 92253, United States
Where Elegance Meets History
Discover the epitome of timeless elegance, tranquility, and rich history on nine lush acres at the Richard Nixon Library & Museum. Voted consistently as one of the top wedding venues in Southern California, this one-of-a-kind venue sets the stage for a special day in the most extraordinary way.
Ceremony Perfection:
In the heart of this verdant haven lies the First Lady's Rose Garden, a meticulously landscaped sanctuary for vows. Picture "I Do" framed by the beauty of nature, with options ranging from intimate affairs to grand celebrations for up to 400 guests. Couples can choose their ideal backdrop, be it the tranquil reflecting pool or the quaint Birthplace cottage surrounded by majestic pepper trees. The dedicated team ensures every detail contributes to an unforgettable memory.
"Stepping into the Nixon Library was like stepping into a dream. The venue exceeded all expectations, and the staff made the experience truly magical."
A Reception Fit for Royalty:
Couples step into a stunning replica of the White House East Room, where the reception dreams come to life. The grandeur of crystal chandeliers, Italian silk draperies, marble fireplaces, and a wooden terrazzo floor for dancing sets the scene. Elegant gold Versailles chairs, banquet tables, and cocktail tables are ready to adorn this space where they can celebrate with 450 to 500 of their closest friends and family. The dream day awaits!
"Our wedding at the Nixon Library was pure magic. The ballroom was nothing short of breathtaking, and the memories made were priceless."
Al Fresco Bliss:
Nature provides the canvas for an extraordinary day. The Nixon Library's expansive outdoor spaces are a breathtaking backdrop for the ceremony, cocktail hour, and reception. The serene gardens elegantly accommodate up to 250 guests, ensuring the beauty of the outdoors embraces the celebration.
Contact
Ready to make wedding dreams a reality at the Richard Nixon Library & Museum? Contact the sales office at 657-258-0138 or reach out to the dedicated wedding coordinators, Cierra Lane at 714-364-1181 (cierra@nixonfoundation.org) or Jessica Haydis at 714-364-1115 (jessica@nixonfoundation.org).
18001 Yorba Linda Boulevard, Yorba Linda, California 92886
4. Montage Laguna Beach
Address: 30801 Coast Hwy, Laguna Beach, CA 92651, United States
An Immaculate Wedding Venue
Montage Laguna Beach, nestled along the stunning oceanfront, is the epitome of timeless elegance, offering an ideal setting to create enduring memories for your special day. The decision to choose a wedding venue is pivotal, marking the beginning of a lifetime of cherished moments. Montage Laguna Beach understands this journey and is committed to turning your dream wedding into a beautiful reality.
A Symphony of Luxury and Renewal
Montage Laguna Beach spans 20,000 square feet, presenting an oasis of luxury at their spa. Imagine indulging in eucalyptus steam rooms, redwood saunas, and ocean-view whirlpools, ensuring you're pampered and relaxed before your big day.
Spectacular Settings for Unforgettable Moments
The breathtaking oceanfront provides an idyllic backdrop for a range of special moments, from intimate anniversaries to grand gala events. Montage Laguna Beach offers various stunning event venues, including pristine beaches, lush lawns, and sparkling ballrooms.
Culinary Excellence Tailored to You
At Montage Laguna Beach, award-winning master chefs specialize in California-inspired cuisine, crafting dishes to suit your preferences. Enjoy these signature dishes against the backdrop of breathtaking ocean views, creating a culinary experience as unforgettable as your love story.
Tailored to Perfection, Just for You
Montage Laguna Beach is dedicated to making your wedding a resounding success, aligning with your vision, theme, and requirements. With nine flexible event spaces, both indoor and outdoor, you can curate your ceremony, reception, or other wedding-related events according to your taste.
Unmatched Services and Amenities for Your Comfort
Montage Laguna Beach offers a comprehensive array of event services, from accommodations and catering to event planning and more. Your wedding needs are meticulously attended to, including a wide range of bar services and sumptuous food and beverage items.
Making Your Day Convenient and Comfortable
Montage Laguna Beach ensures the comfort and convenience of your guests with transportation and accessibility options, including parking, shuttle services, valet parking, and wheelchair access.
In essence, Montage Laguna Beach is not just a venue; it's an enchanting canvas where wedding dreams come to life. With its awe-inspiring oceanfront setting, luxurious amenities, and unwavering commitment to excellence, it's the perfect place to begin your journey as a married couple. Create memories that will last a lifetime at Montage Laguna Beach.
Venue Details:
Indoor Function Space:
| | | | | | | | | |
| --- | --- | --- | --- | --- | --- | --- | --- | --- |
| Room | SQ FT. (APPROX) | THEATER/RECEPTION | CLASSROOM | RDS. OF 10 | U-SHAPE | CONF. | HOLLOW-SQUARE | CRESCENT |
| GRAND BALLROOM | 7,500 | 800 | 300 | 500 | 180 | 200 | 300 | – |
| GALLERY BALLROOM | 3,200 | 300 | 120 | 220 | 64 | 54 | 72 | 120 |
| BOARDROOM ONE | 590 | – | – | – | – | 14 | – | – |
| PACIFIC ROOM | 240 | – | – | – | – | 12 | – | – |
| SALON I | 400 | 30 | 12 | 20 | – | 14 | – | – |
Outdoor Function Space:
| | | | | | | | | |
| --- | --- | --- | --- | --- | --- | --- | --- | --- |
| Room | SQ FT. (APPROX) | THEATER/RECEPTION | CLASSROOM | RDS. OF 10 | U-SHAPE | CONF. | HOLLOW-SQUARE | CRESCENT |
| PACIFIC LAWN | 4,500 | 400 | – | 35 | – | – | – | – |
| OCEAN LAWN | 5,500 | 250 | – | 25 | – | – | – | – |
| SEAVIEW LAWN | 5,300 | 250 | – | 25 | – | – | – | – |
| STUDIO LAWN | 2,600 | 250 | – | 20 | – | – | – | – |
5. Ojai Valley Inn
Address: 905 Country Club Rd, Ojai, CA 93023, United States
At Ojai Valley Inn, the stage is set for your dream celebration. Nestled in the serene Southern California mountains, the Ojai Valley provides an idyllic canvas for that perfect wedding day.
Ceremony Venues
Hacienda Courtyard and Artist Cottage Lawn
Awe-inspiring views of the Topa Topa mountains and Ojai Valley.
Farmhouse Lawn (Available Early 2019)
Rustic charm paired with luxurious elegance.
Special Events Sales Managers are available to discuss every detail. Outdoor venues are open from April through early November. The site fee includes:
White or Natural-Colored Garden Chairs
Sound System
Guest Book Table
Gift Table
Bellman to Deliver Gifts
Signature Spa Ojai Citrus and Cucumber Water Station
Reception Venues
The Southern California Wedding Specialists are available for customization, ensuring the reception is tailor-made. Pre- and post-wedding activities abound for the wedding party, ranging from spa treatments at Spa Ojai to legendary golf and more.
Weekend rates start at $45,000++ with a Food & Beverage minimum for up to 150 guests. The package includes everything needed:
60″/72″ Tables, Hotel Chairs, Ivory Tablecloths, and Napkins
White China, Wine and Champagne Glasses, Glassware, Silverware
Three Votive Candles Per Table, Signage, Self and Valet Parking
Event Captain, One Bartender Per 75 Guests, One Server Per 12 Guests for Plated Dinners
One Server Per 25 Guests for Buffets
Based upon availability and specifications, additional services include:
Band Staging (Excludes Herb Garden)
Wood Parquet Dance Floor (Excludes Herb Garden)
Market Umbrellas
Anacapa Ballroom
Fresh redesign with warm, inviting hues.
4,800 SqFt, 220 Guest Maximum, 14'6″ Ceiling Height.
Outdoor terraces with mountain and sunset views.
Hacienda Ballroom
Spanish-style fireplace and a meandering terrace ideal for a cocktail reception.
6,000 SqFt, 350 Guest Maximum, 17′ Ceiling Height.
The Orchard & Orchard Lawn
Lined with fruit trees, abundant herbs, and fragrant lavender and citrus blooms.
Available April through October.
The Farmhouse at Ojai
30,000 square foot venue with natural indoor-outdoor spaces.
Up to 400 guests, exclusive use of venue space.
Wood & glass barn-inspired structures, 25-foot ceilings.
Casa Elar
Luxuriously private estate for intimate weddings (up to 60 guests).
Private events start at a $15,000 event site fee per event.
10,407 Square Foot Property, Four Master Suites with Extravagant Baths.
Choose Ojai Valley Inn for your dream wedding venue and celebrate amidst the stunning beauty of the Ojai Valley. The dedicated team at Ojai Valley Inn will help craft unforgettable memories in the perfect setting for your love story.
6. The Ritz-Carlton, Lake Tahoe
Address: 13031 Ritz Carlton Highlands Ct, Truckee, CA 96161, United States
Imagine your wedding day amidst the grandeur of towering pines, the majesty of mountains, and the azure beauty of Lake Tahoe. The Ritz-Carlton, Lake Tahoe brings these dreams to life, offering couples an unforgettable destination for their special day. With both indoor and outdoor venues designed to capture the natural beauty of the surroundings, every detail is meticulously attended to, allowing the couple to savor each precious moment.
Wedding Venues:
1. The Meadows: An expansive slope-side location with breathtaking mountain views, perfect for outdoor ceremonies hosting up to 400 guests.
2. The Woods: A forest-like setting among towering pines, creating an intimate ambiance for ceremonies or vibrant celebrations for up to 200 guests.
3. Fireside Terrace: A stone terrace with a seven-foot outdoor fire feature adds magic to your ceremony for up to 180 guests.
4. The Ritz-Carlton Ballroom: Exuding Tahoe mountain elegance with soaring ceilings, wooden beams, and stunning views, accommodating receptions of up to 400 guests.
5. Pines Ballroom: Accompanied by a private outdoor terrace, suited for receptions of up to 180 guests.
Delectable Dining:
Culinary Team: Savor every taste with a culinary team that crafts exquisite hors d'oeuvres, plated dinners, wedding cakes, and more.
Services:
Event Professionals: The resort provides recommendations for photographers, florists, music, and other vendors to ensure impeccable service.
Special Events Managers: They meticulously detail your event, create estimates, oversee setup, and ensure a seamless transition on your wedding day.
Wedding Planners: Assist with etiquette, create timelines, coordinate rehearsals, and ensure everything runs smoothly.
Venue and Logistics:
Venue Fee: Includes rental of ceremony, cocktail reception, and dinner reception locations, setup, and teardown, making it convenient and cost-effective.
Celebration Hours: Indoor reception venues are available until midnight, with the option to extend for a fee. Outdoor venues must conclude at 10:00 pm.
Additional Information:
Pet-Friendly: Dogs are welcome to be part of your special day.
Marriage License: Obtain one conveniently in North Lake Tahoe.
Social Celebrations:
Versatile Event Spaces: The resort caters to various occasions, whether it's an intimate gathering in the private dining room or an elaborate gala in the Ritz-Carlton Ballroom.
Meeting and Event Facilities:
A Range of Venues: The resort offers a diverse selection of meeting rooms and event spaces to accommodate your needs, with detailed dimensions and capacity information provided.
Room Set-up Examples:
Banquet
Conference and Hollow Square
Theater
Reception
Schoolroom or Classroom
Ovals and Rounds
Equipment and Services:
Audio-Visual Equipment
Event Services: Event lighting to set the mood
Event Equipment & Supplies: Everything from direction signs to easels and flip charts
Business Services: Access to computers, copy services, fax services, and more
For a wedding or special event that encapsulates the magic of Lake Tahoe, The Ritz-Carlton, Lake Tahoe is the ultimate choice. Contact the resort to begin planning your dream celebration amid the pines and mountains.
7. Alila Napa Valley: Gorgeous Rolling Hills
Address: 1915 Main St, St Helena, CA 94574, United States
This idyllic resort stands as one of St. Helena's three grand dame estates, located at the north end of Main Street, just a short stroll away from renowned spots like Model Bakery, Goose & Gander, Charter Oak Winery, and Farmstead at Long Meadow Ranch. With over two acres of lush grounds and a backdrop of breathtaking vineyard vistas, Alila Napa Valley sets the stage for unforgettable special events.
Event Spaces:
Total Sleeping Rooms: 64
Largest Event Space: 2,200 square feet
Weddings:
At Alila Napa Valley, your dream wedding weekend comes to life against a backdrop of nature's beauty. The resort offers lavish indoor and outdoor alcoves where you can exchange vows surrounded by verdant vineyards and stunning mountains. Accompanied by the assistance of our experienced Wedding Specialist, your special day will be nothing short of unforgettable. For personalized information, contact our wedding specialists or request a brochure.
Meetings:
Host your business meetings or conferences in our modern barn or naturally lit boardroom. Whether you're planning a corporate gathering, social event, or team-building retreat, our beautiful spaces and proximity to downtown St. Helena's shopping and dining make Alila Napa Valley the perfect choice.
Exclusive Features:
Say your vows on the picturesque Acacia Lawn, offering expansive vineyard and mountain views.
Toast under the soaring ceilings of the contemporary Acacia Barn or on the historic veranda of the Acacia House restaurant.
Enjoy exquisite cuisine crafted by our talented culinary team, highlighting local, organic, and sustainable ingredients.
Elevate your celebration with a property buyout, granting exclusive access to all 68 luxurious rooms and suites. Each room features floor-to-ceiling windows, secluded balconies with fire pits, and outdoor soaking tubs with stunning vineyard vistas.
Frequently Asked Questions:
Site Fee for Wedding Receptions: Yes
Site Fee for Wedding Ceremonies: Yes
Starting Site Fee Inclusions: Chairs, China, Clean Up, Flatware, Glassware, Linens, Set Up, Tables
Cost of Wedding Catering Inclusions: Cake Cutting, Dessert, Server(s)
Starting Price Per Person for Bar Service: $27
Starting Price for Bar Service Inclusions: Bartender(s), Open Bar
Event Spaces or Rooms Offered: 5, including Ballroom, Hotel, and Restaurant
Available Settings: Indoor and Uncovered Outdoor
Wedding Events: Ceremony, Reception, Engagement Party
Event Services: Accommodations
Food and Beverage Items: Barware, China, Flatware, Glassware
Transportation and Access: Valet, Wheelchair Access
Discover the enchanting allure of Alila Napa Valley, where every event becomes a treasured memory amidst the splendor of California's wine country.
8. Post Ranch Inn: A Coastal Haven in Big Sur
Address: 47900 CA-1, Big Sur, CA 93920, United States
Phone: +1 831-667-2200
Perched along the iconic California Coast, Post Ranch Inn stands as a beacon of luxury and natural beauty. This renowned resort offers a getaway like no other, inviting guests to immerse themselves in the rugged elegance of Big Sur. Nestled amidst the breathtaking scenery of the Pacific Ocean and the Santa Lucia Mountains, this haven provides an unparalleled experience. Visitors can indulge in the utmost comfort of the Cliff House suite, offering sweeping vistas of the vast ocean.
Post Ranch Inn is not just a place to stay; it's an immersive journey through nature's marvels. Whether relaxing in the spa's soothing embrace, exploring the nearby hiking trails, or savoring award-winning cuisine at the on-site restaurant, every moment here is designed for serenity and luxury. The attention to detail, dedication to sustainability, and the blend of modern luxury with the untouched natural surroundings make Post Ranch Inn a true gem on the Californian coastline.
9. Calamigos Ranch: A Picturesque Haven in Malibu
Tucked in the heart of Malibu Wine Country, Calamigos Ranch is a truly enchanting destination that captures the essence of rustic elegance. This exceptional venue, steeped in history since its establishment in 1937, sits amidst the stunning Santa Monica Mountains, offering a perfect blend of natural beauty and sophistication.
Venue Highlights:
Idyllic Surroundings: Calamigos Ranch is an oasis of greenery, accentuated by cascading waterfalls and lush gardens, providing an idyllic backdrop for weddings and events.
Charming Event Spaces: The venue offers four distinct event spaces, each with its unique charm. From the intimate Birchwood Room to the expansive gardens, the options cater to a range of preferences.
Versatile Capacity: With a capacity to accommodate up to 500 guests, the ranch ensures flexibility for both intimate gatherings and grand celebrations.
Unmatched Ambiance: The rustic charm of Calamigos Ranch adds an unparalleled ambiance, making it a preferred choice for couples seeking a blend of nature and luxury.
Legacy of Celebrations: Over the years, Calamigos Ranch has been a cherished location for numerous weddings and events, solidifying its reputation as a premier venue in Malibu.
A Dream Venue Amidst Nature
Calamigos Ranch stands as a testament to timeless beauty and provides a canvas where wedding dreams are painted with the hues of love and joy. The scenic beauty combined with the venue's rich history offers a truly magical setting for couples embarking on their journey of togetherness.
FAQs About Luxury Wedding Venues in California
| | |
| --- | --- |
| FAQs About Luxury Wedding Venues in California | Answers |
| What are some popular luxury wedding venues in California? | California offers an array of luxury wedding venues, including The Ritz-Carlton, San Francisco, and Pelican Hill Resort. |
| How can I choose the perfect luxury wedding venue in California? | Consider your budget, guest count, preferred location, and desired ambiance when selecting a venue. |
| What is the average cost of a luxury wedding venue in California? | Costs vary widely, but you can expect to spend anywhere from $10,000 to $50,000 or more for a luxury venue. |
| Do luxury wedding venues in California offer all-inclusive packages? | Some luxury venues provide all-inclusive packages that cover catering, decor, and more. It's best to inquire directly. |
| Are outdoor weddings popular in California, and which venues offer them? | Yes, outdoor weddings are popular. Venues like Malibu Rocky Oaks and Santa Lucia Preserve offer stunning outdoo r spaces. |
| How far in advance should I book a luxury wedding venue in California? | Booking 12-18 months ahead is advisable, especially for peak wedding seasons. |
| Can I customize the menu at a luxury wedding venue? | Most luxury venues offer customization options to tailor the menu to your preferences and dietary restrictions. |
| Are there options for intimate weddings at luxury venues? | Many luxury venues have intimate spaces for smaller weddings, making it perfect for couples with a more modest guest list. |
| What are some unique features of luxury wedding venues in California? | Unique features may include vineyard settings, coastal views, historic estates, and world-class spa facilities. |
| Are there on-site accommodations available at luxury wedding venues? | Yes, several luxury venues offer on-site accommodations for the couple and their guests, providing convenience and comfort. |
| Do luxury venues provide wedding planning services? | Some luxury venues offer in-house wedding planners or coordinators to assist with the planning and execution of your wedding. |
| Can I visit luxury wedding venues before booking them? | Yes, it's highly recommended to schedule visits and tours to get a feel for the venue and its amenities before making a decision. |
| Do luxury venues have backup plans for inclement weather? | Many luxury venues have backup options, such as indoor spaces or tents, to ensure your wedding can proceed smoothly, even in bad weather. |
| What is the cancellation policy for luxury wedding venues in California? | Cancellation policies vary by venue, so be sure to review and understand the terms and conditions in your contract. |
| Are there any additional fees I should be aware of when booking a luxury venue? | Be aware of fees such as service charges, taxes, and gratuities that may be added to the venue's base price. |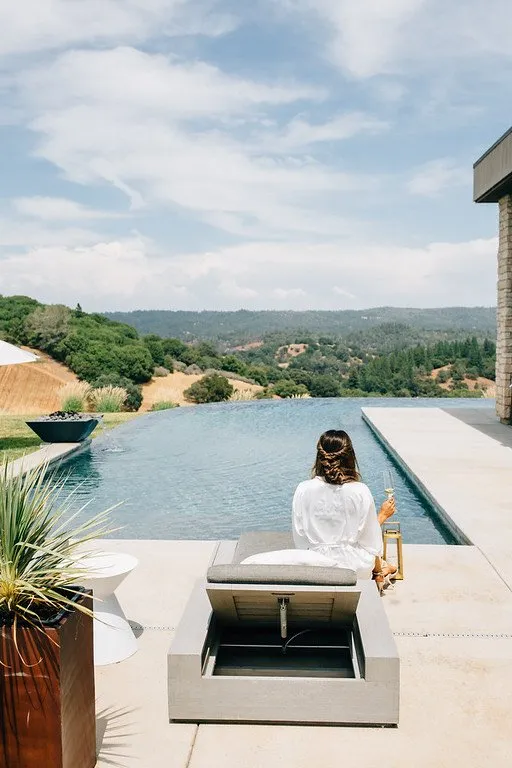 Good Luck On Your Journey To Finding The Perfect Luxury Wedding Venue!
May your search be filled with excitement, inspiration, and the promise of unforgettable moments ahead. Cheers to your love story!